---
Generation 3; Chapter 16
If you were creeping around other areas of Boolprop when I was frantically trying to figure out what was happening to my game a few days ago, you might have been expecting this. I certainly wasn't. After Sim-weeks of searching for an eligible bride, Joaquin finally married the lovely Claire Small, a pizza delivery girl.
Here was her lifebar right after the wedding.

And then, three hours later, right after a failed "try for baby," this happened.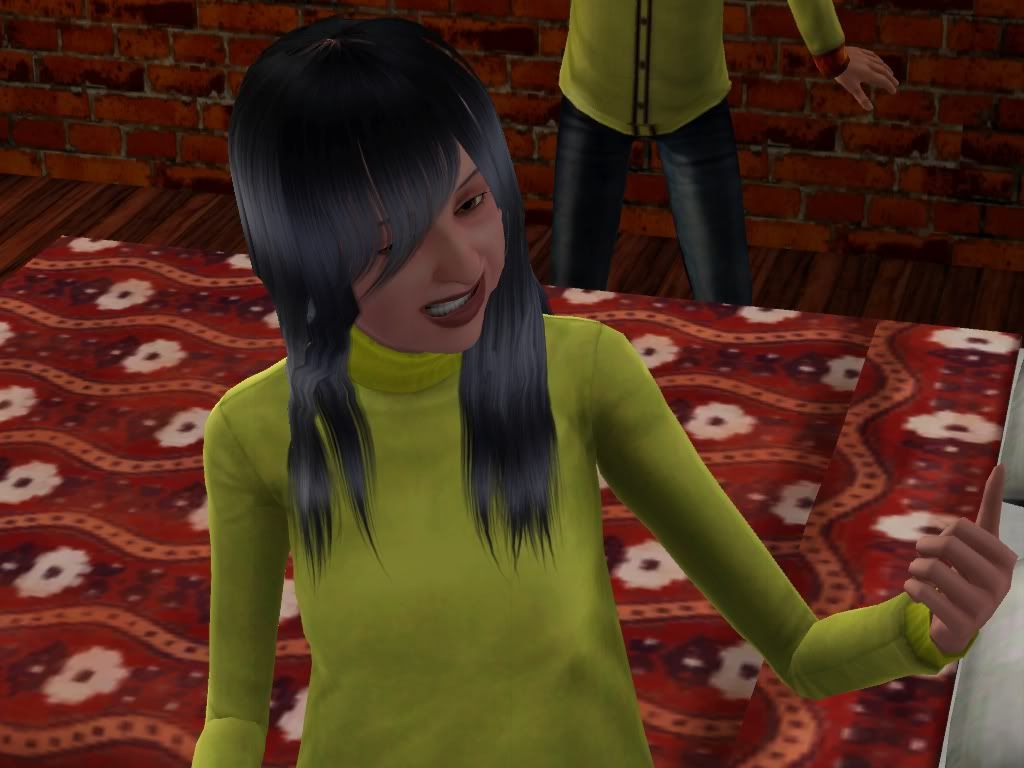 Claire: "FML"
Me: D:
I have rarely been so horrified as when this glitch happened. After an hour of frantic googling trying to figure out how to make this go away, I had little hope that I would be able to fix things. Fortunately, I saved the game right after the wedding, so I was able to quit without saving and back up to before Claire got prematurely old and barren. I figured I'd try resetSim on her, or see if I could use Twallan's SP mod to turn off aging for just her until her natural time to get old.
However, I rebooted, "tried for baby" again, and…chimes! I don't know what happened but I'm not looking a gift horse in the mouth. Everyone is aging normally and nothing hurts. So, without further ado, meet Claire Underground!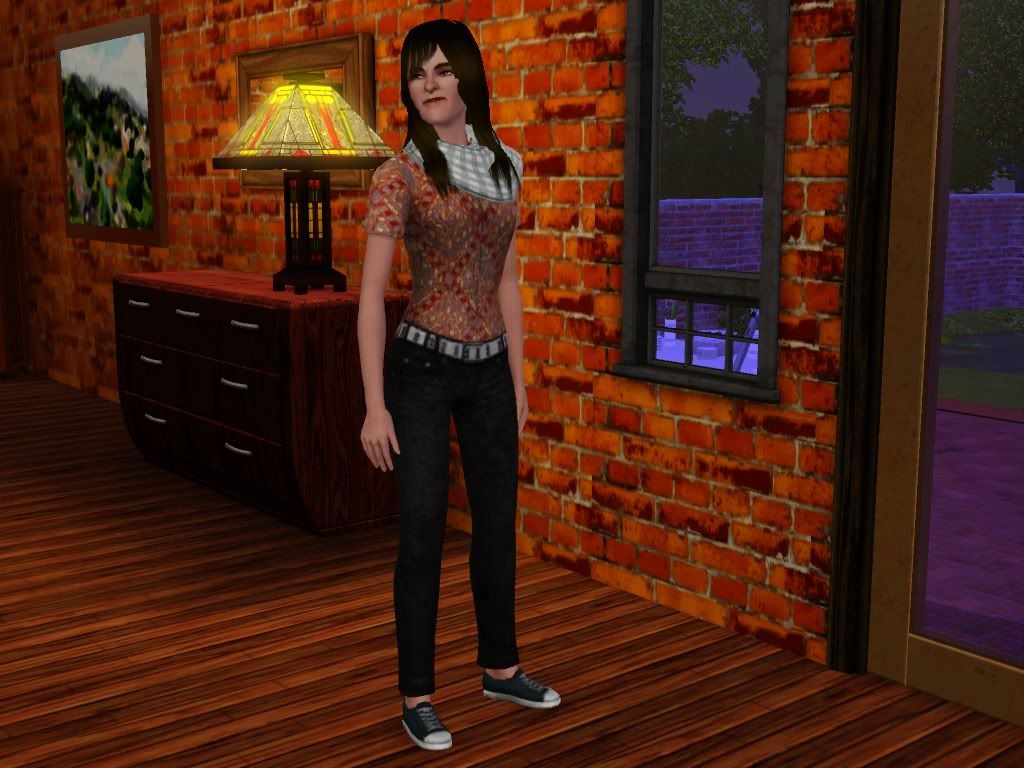 Here she is making her hipster makeover debut. She's Insane, Unlucky, Clumsy, Frugal and a Natural Cook. Her LTW is to be a Gold Digger (which works out as long as she outlives Joaquin, which, eww, but we'll think about that later) and she brings no assets to the marriage except a slightly different color brown hair and the possibility for her children to have the Pizza Appreciator hidden trait.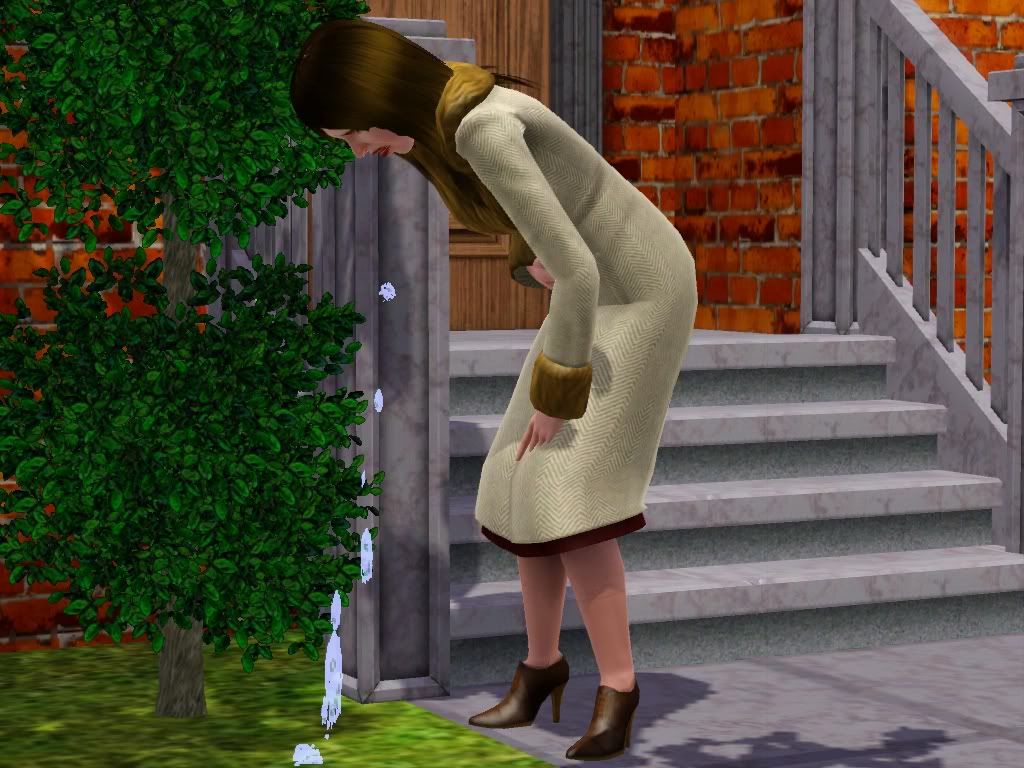 However, having two insane sims in the house is more awesome than I could have ever expected. When a normal Sim gets morning sickness while in the upstairs bedroom, she runs to the bathroom next door. When an insane sim gets morning sickness, she changes into her formalwear, runs through the bathroom and down the stairs, and goes outside to throw up on the front lawn. Stuff like this happens on a daily basis.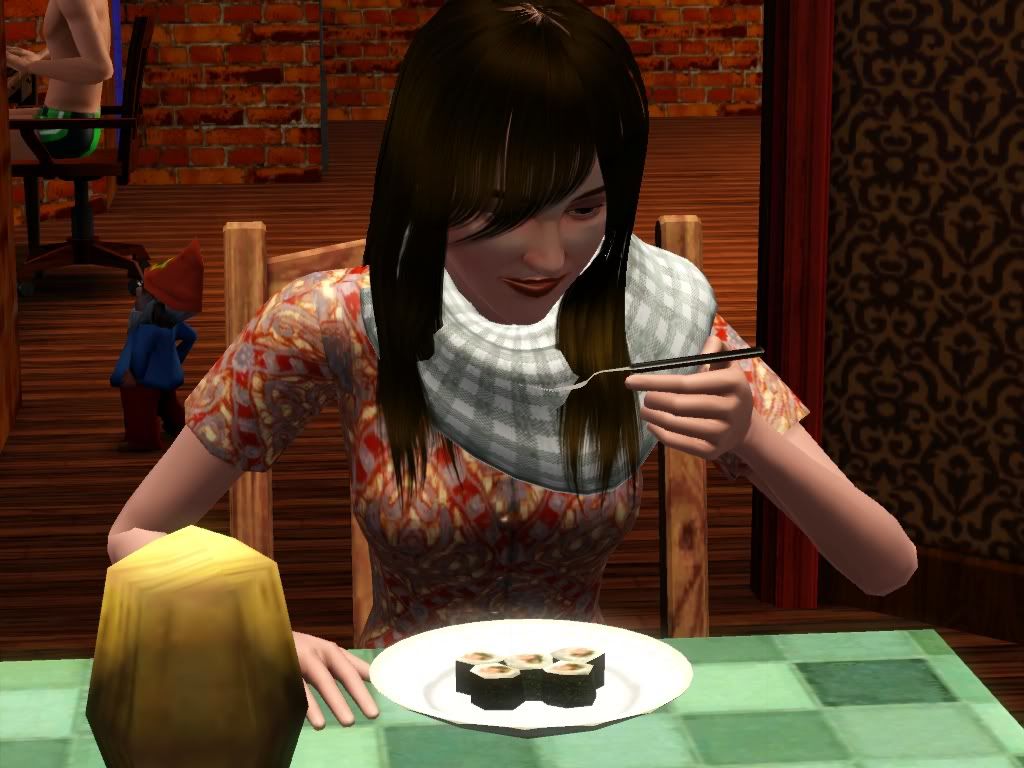 Then I caught her eating sushi while pregnant. Hopefully Sunset Valley doesn't have a mercury problem.
By the way, if you look behind Claire you'll see that the Undergrounds have gotten their very first gnome! Dorian fished him up and I put him on the back porch, but he wasted no time letting himself into the house. It took me a few days, but I finally decided to name him Ad-Rock. Ad-Rock the Gnome is the BEST, you guys.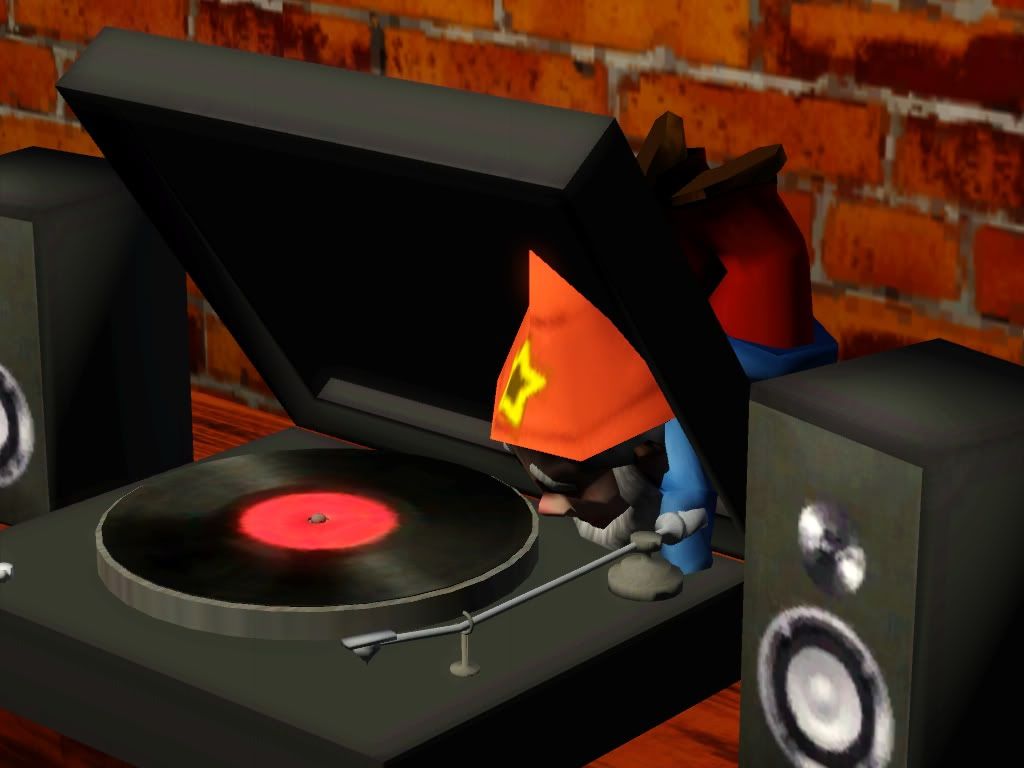 I mean, this is so scarily appropriate I wonder if he somehow knows his own name, for real.
Soon, Claire spun into her pregnancy clothes, and some of her insanity briefly rubbed off on Dorian.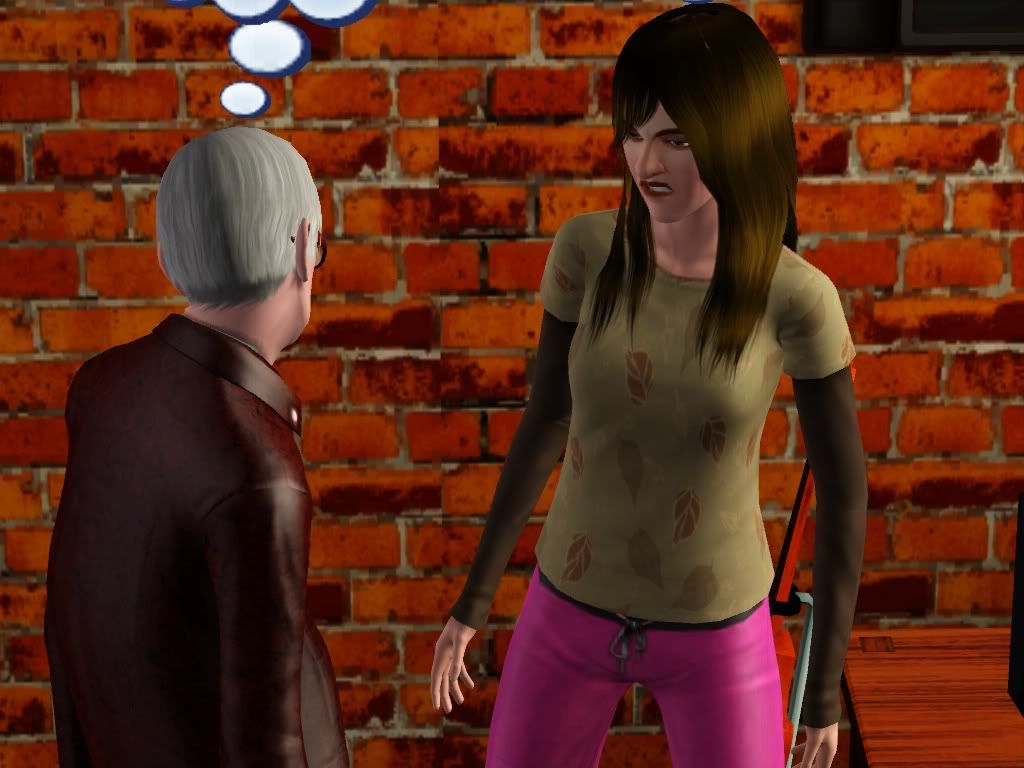 For once, Claire's reaction was appropriate. At least Dorian looks properly ashamed of himself. He must be REALLY lonely without Lee, but still…ewwww. I wanted Claire to slap him, but sadly, it didn't give me the option.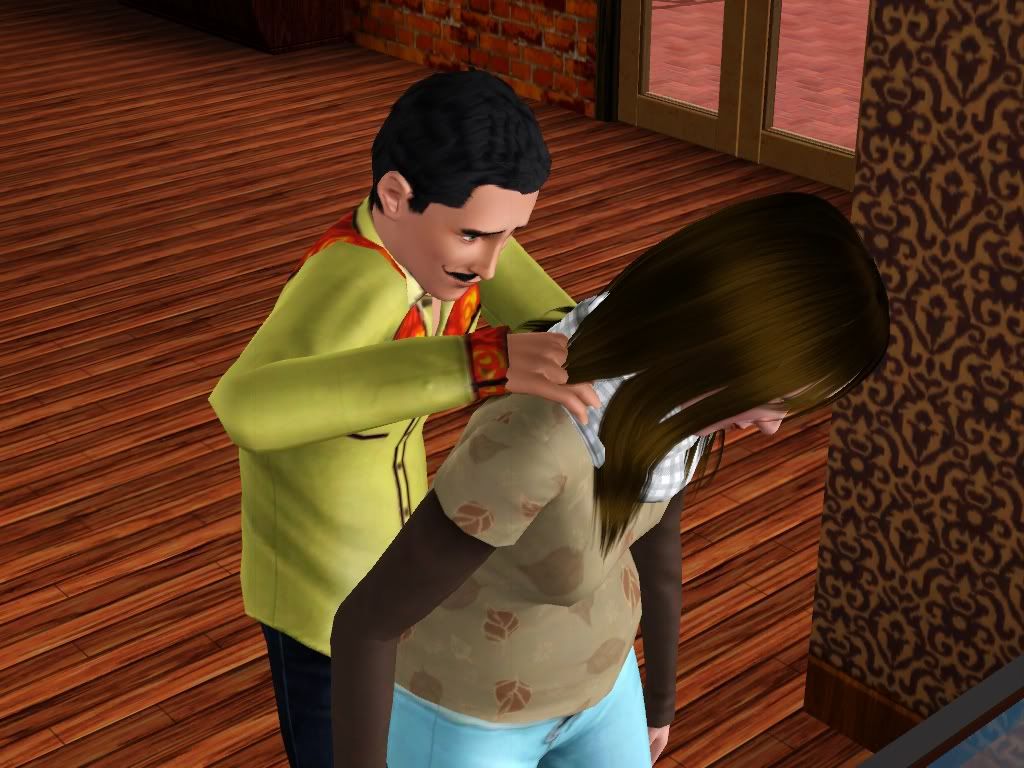 Joaquin rolled a wish to quit work, and I was more than happy to comply. He's such a cute stay-at-home dad-to-be, constantly giving massages and rolling wants to read pregnancy books. He wants a boy, but Claire wants a girl.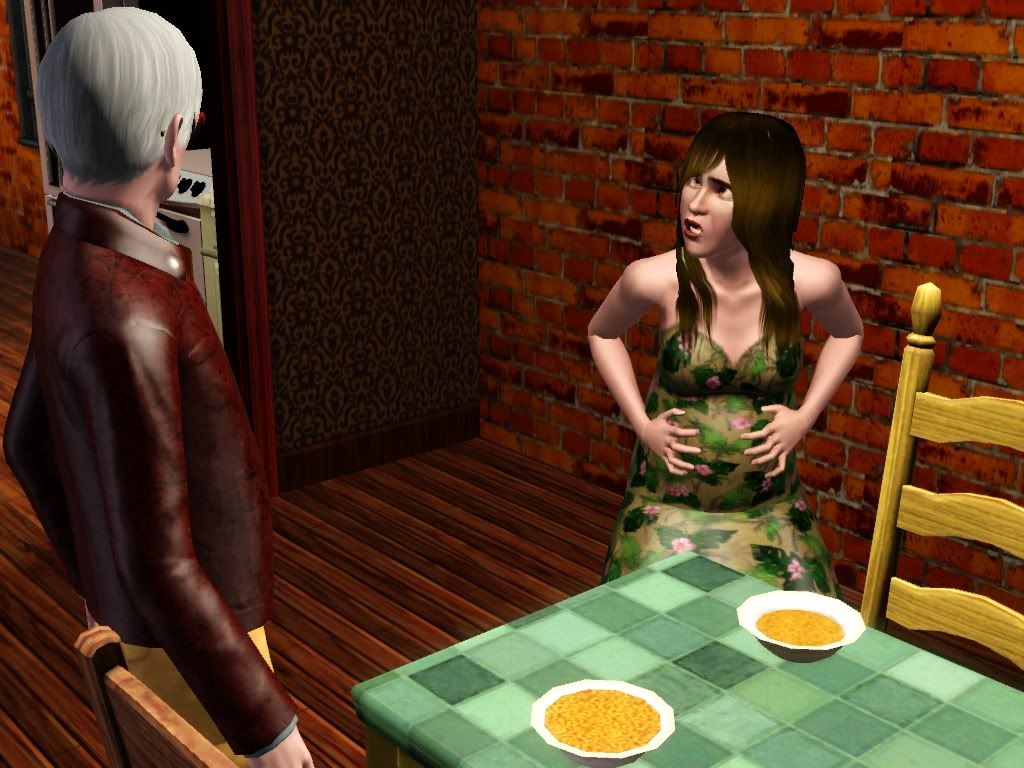 Then suddenly, the fourth generation was on its way. And by suddenly I of course mean "after a four-hour home birth."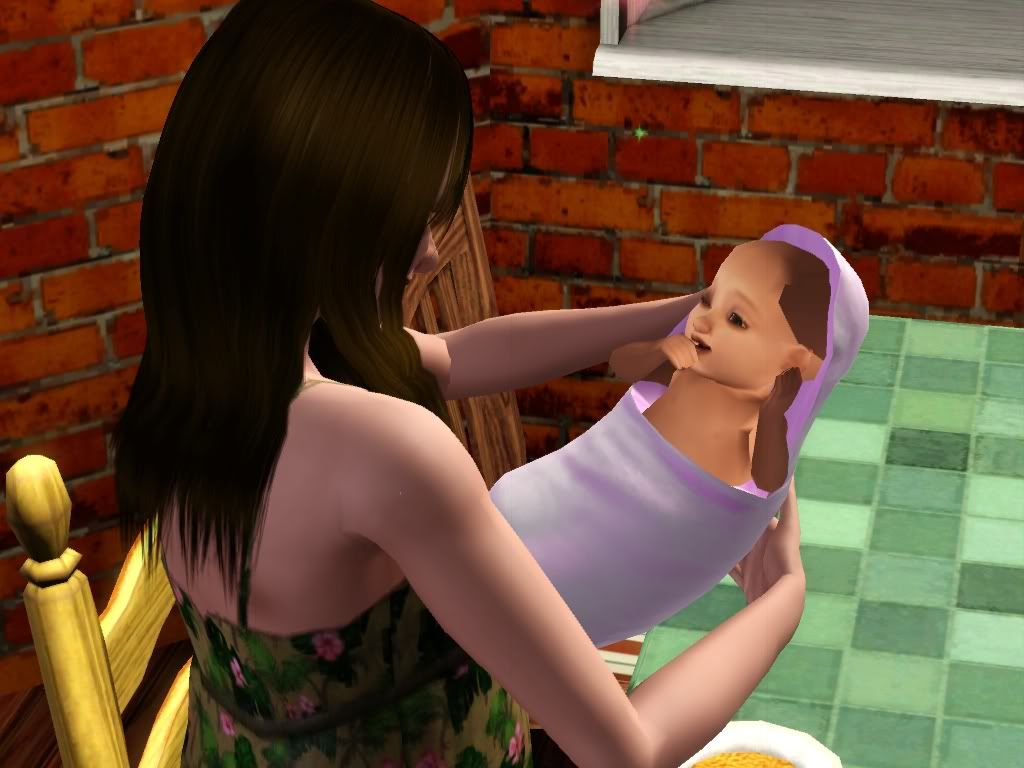 Finally an adorable baby girl was born! Feeling extremely proud of myself, I named her Velvet. Velvet Underground. I'd be lying if I told you I didn't see the potential for this pun waaaay back at the beginning of this legacy. I know Velvet is a stripper name, but do you really think hipster parents would care?
She rolls the Good and Brave traits, btw.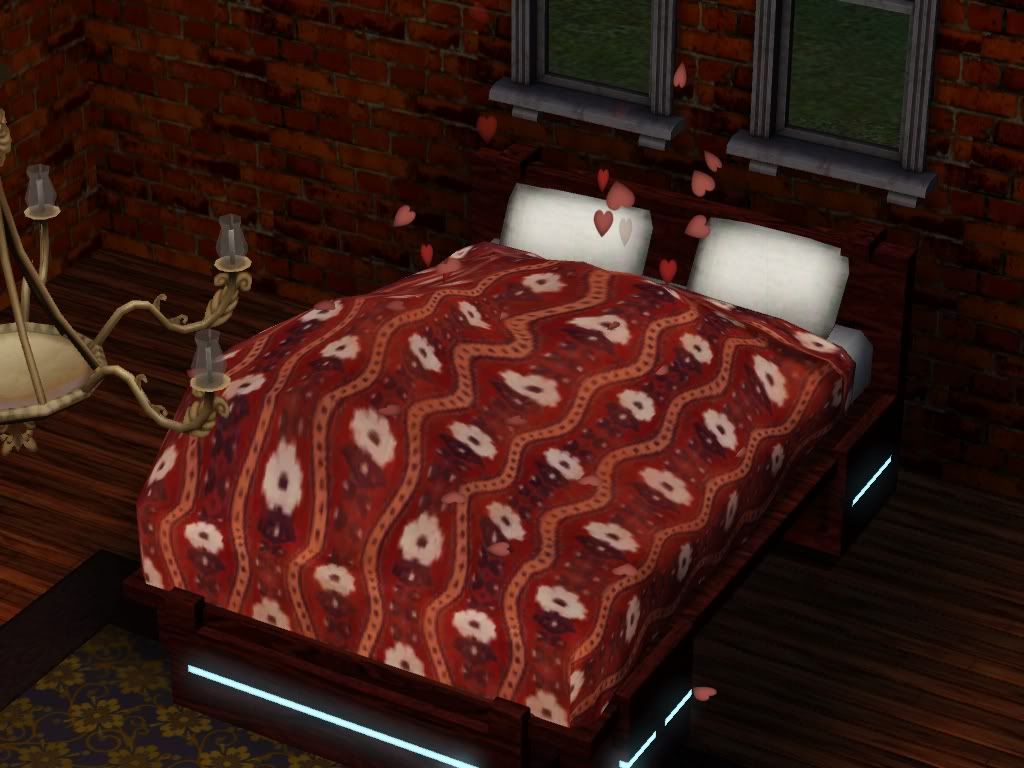 Joaquin still wants a boy, so it's back to the bedroom for you two till I hear some chimes.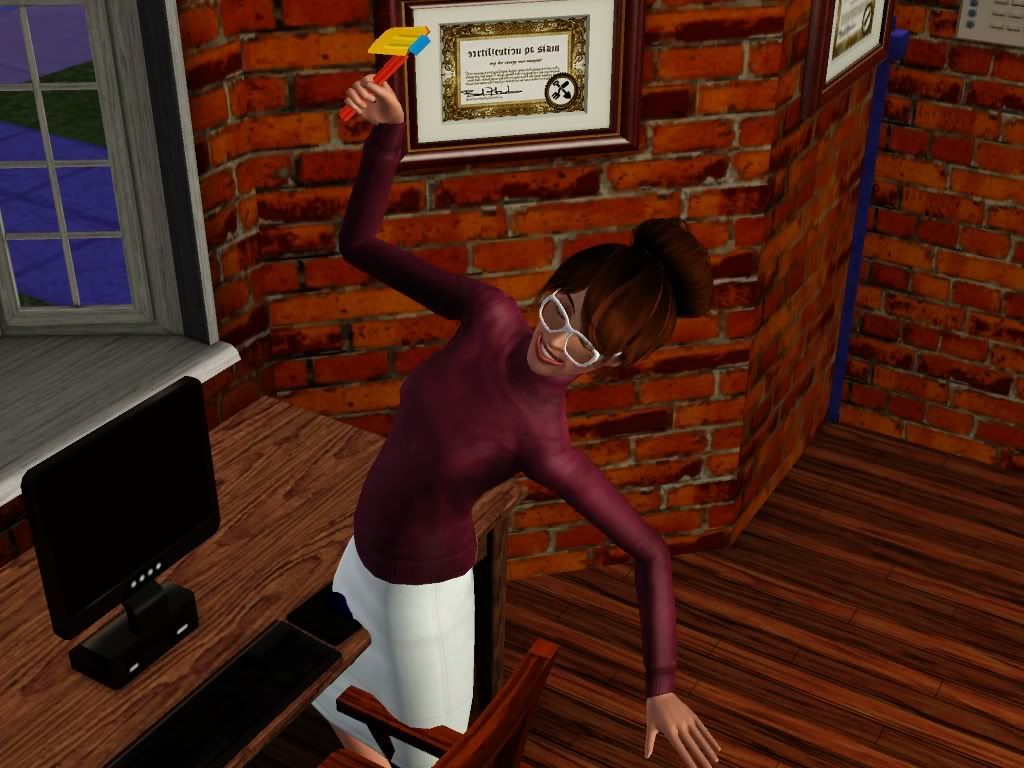 Meanwhile, poor Flannery spent her Adult birthday alone, partially impaled in the computer desk.
*looks for more pictures of Flannery to put here*
Uhhhh…damn. I don't seem to have taken any. Right now I'm trying to get her to her LTW (Creature-Robot Crossbreeder) so she can move out and have babies, possibly with that handyman guy whose name I still haven't written down. So she spends most of her time gardening, fishing, and reading handiness books. Sorry about that, Flannery.
As for the other members of the household: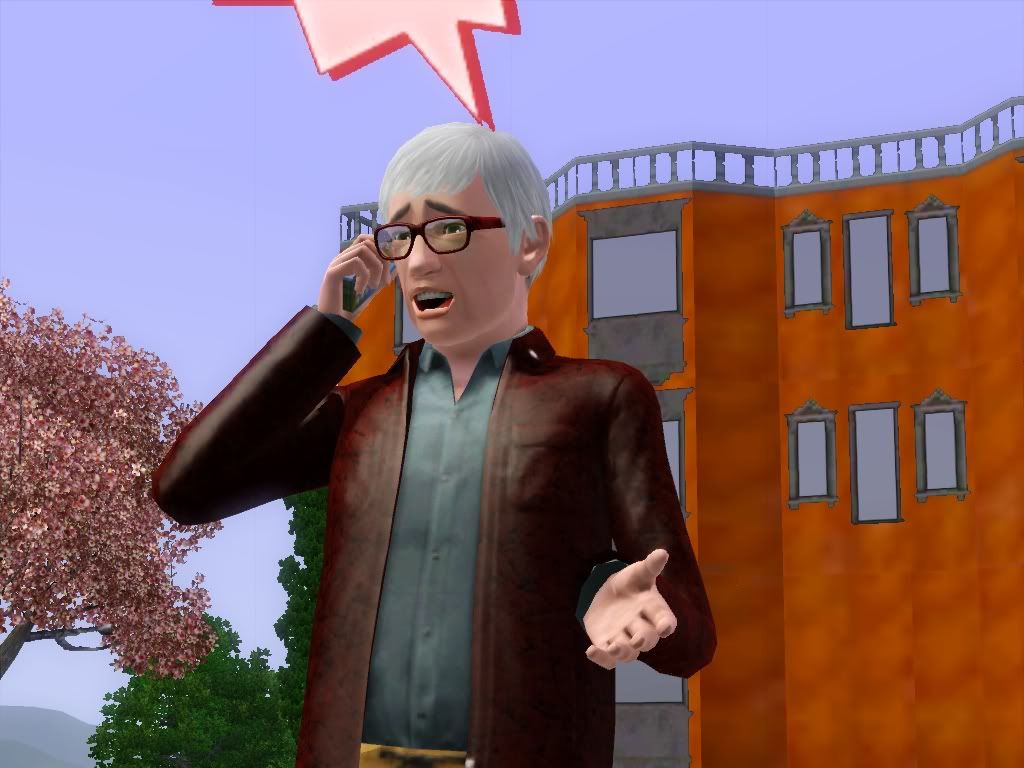 Dorian finally retired as a Mad Scientist at the age of about 96 so he could spend time with his grandchildren.
Dorian: "So, my insane son and daughter-in-law named you Velvet, did they? Those guys are jerks."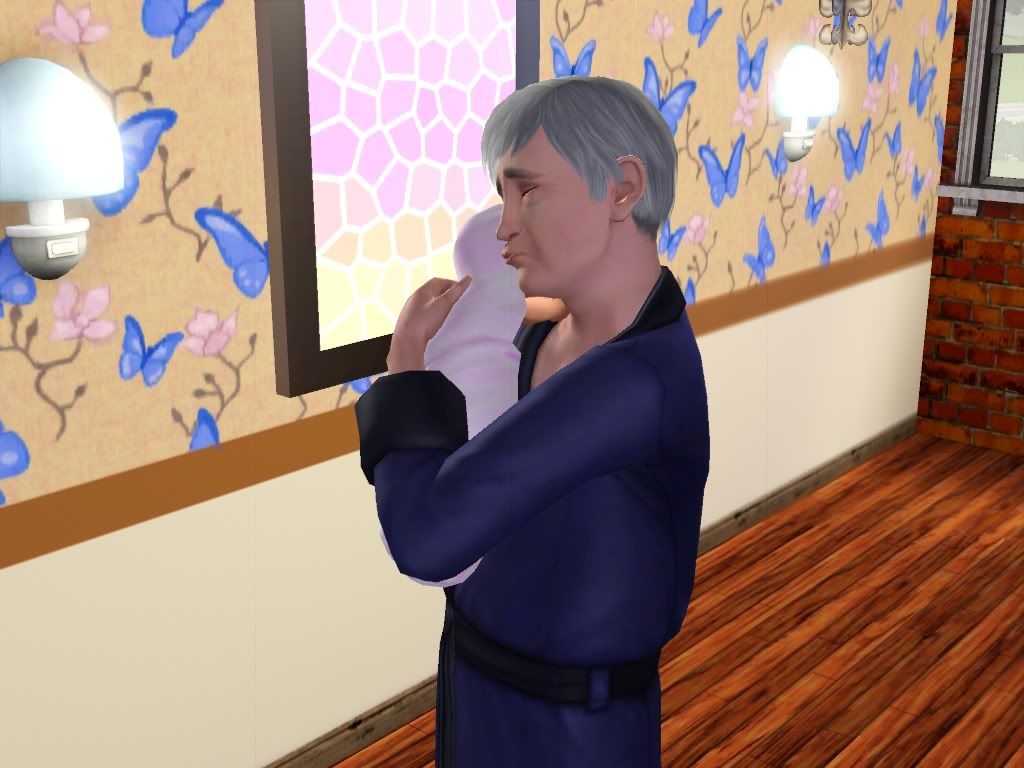 Dorian: "Don't worry, though, little Velvet. I'll take care of you."
D'aww.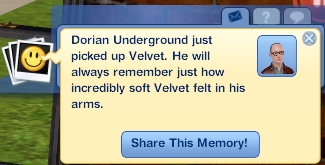 I have to admit I cackled gleefully when I saw this. The pun quotient is SKY-HIGH.
Dorian is getting up there in age, so I knew this was going to happen soon, but I still wasn't really prepared for it…

The worst part is that he died totally alone. I never got a single notification of even a flirt with another Sim. 
He joined the military career after he moved out but didn't advance very far. Rest in Peace, my poor Loser spare. I think I'll miss you most of all.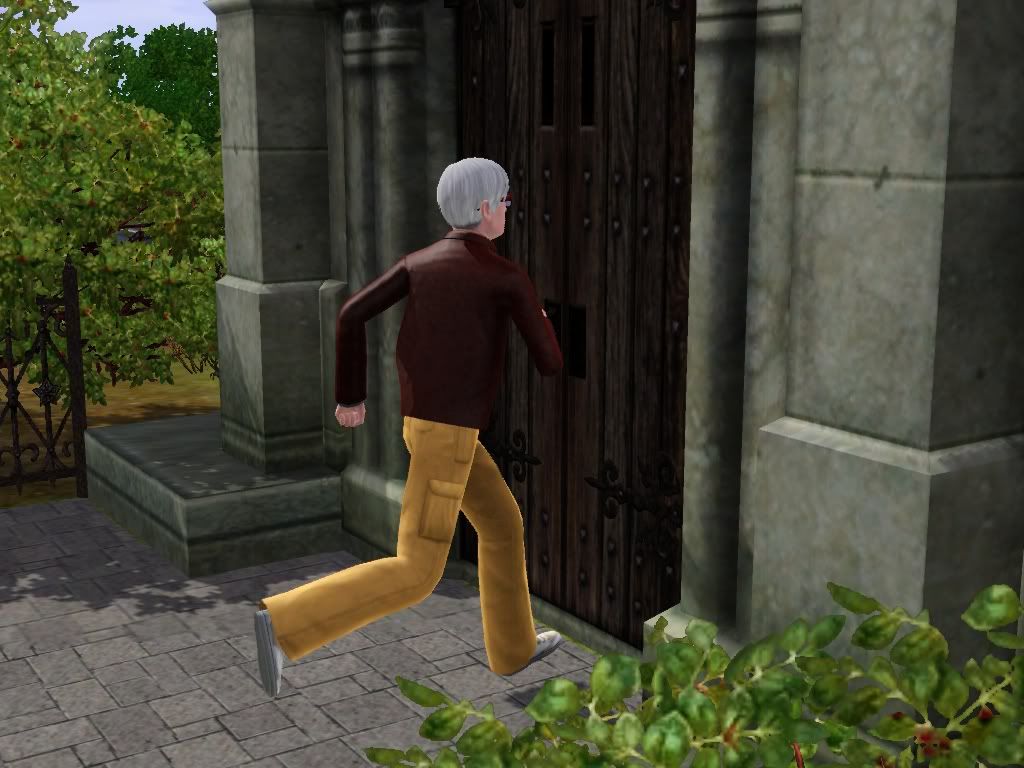 The next day I send Dorian to the mausoleum to pick up Holden's headstone for the Underground cemetery.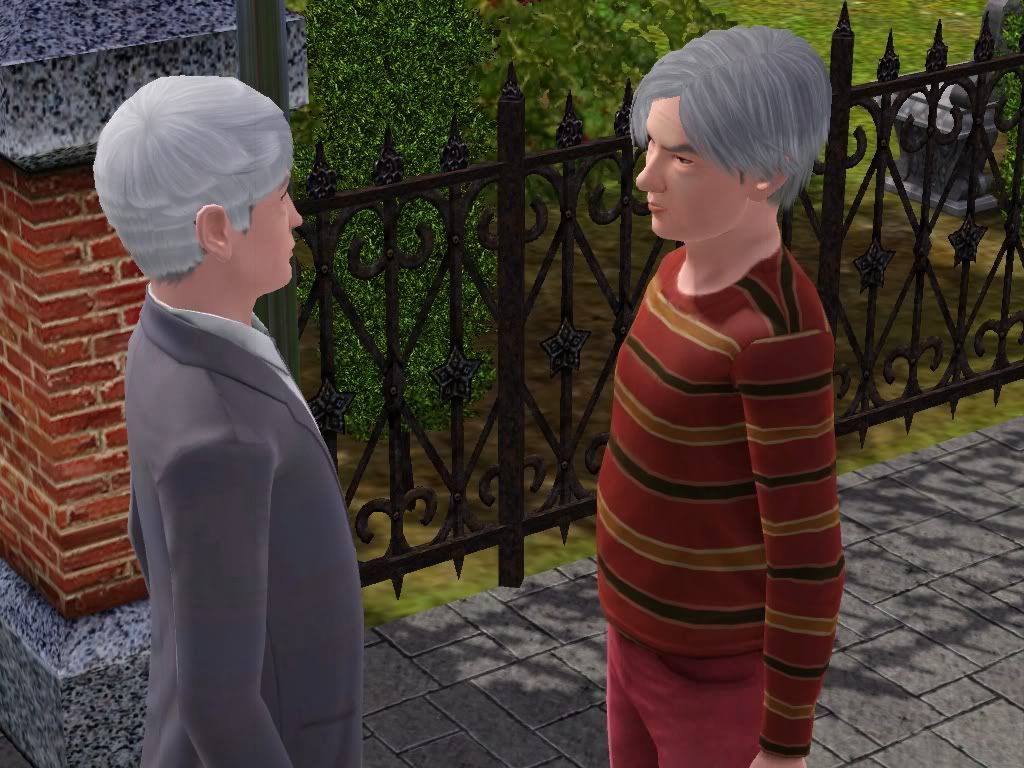 While he was there, he ran into Wes hanging around the cemetery entrance with Kip Crumplebottom. I'd been getting alternating flirt/fight notifications for these two for a few days, but they're not actually dating. Wes is pretty hard to get along with, and everyone in town seems to be nemeses with Kip.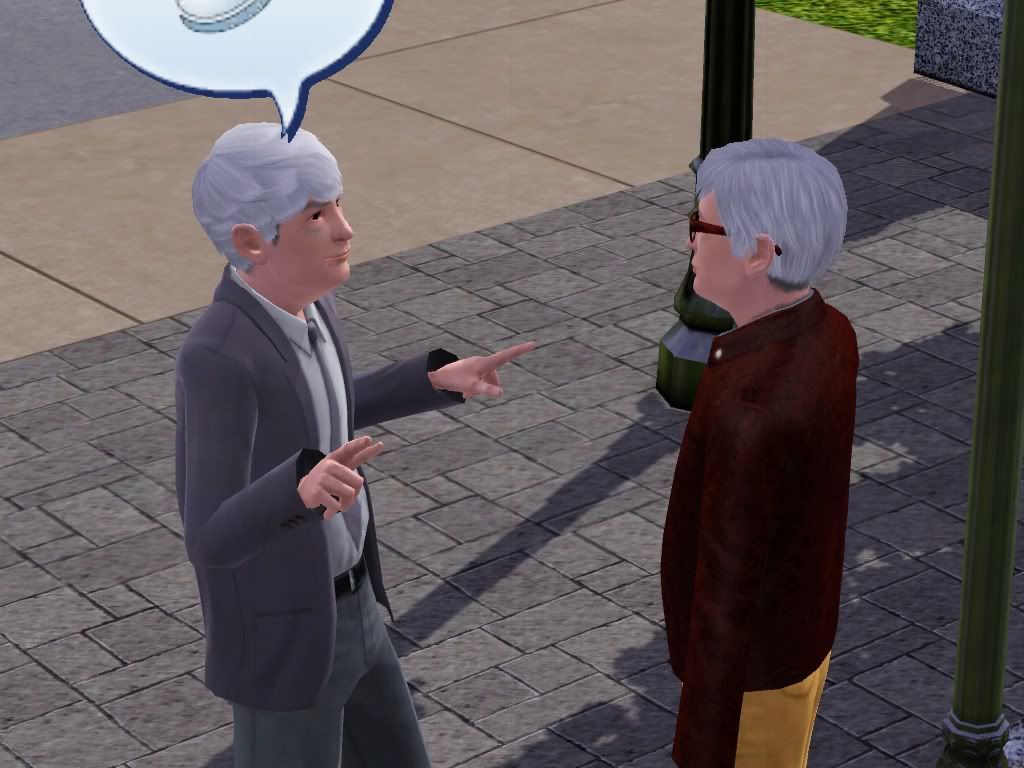 I figured Dorian and Wes ought to be on good terms since they're the only ones left in the second generation now, so they spent some time catching up.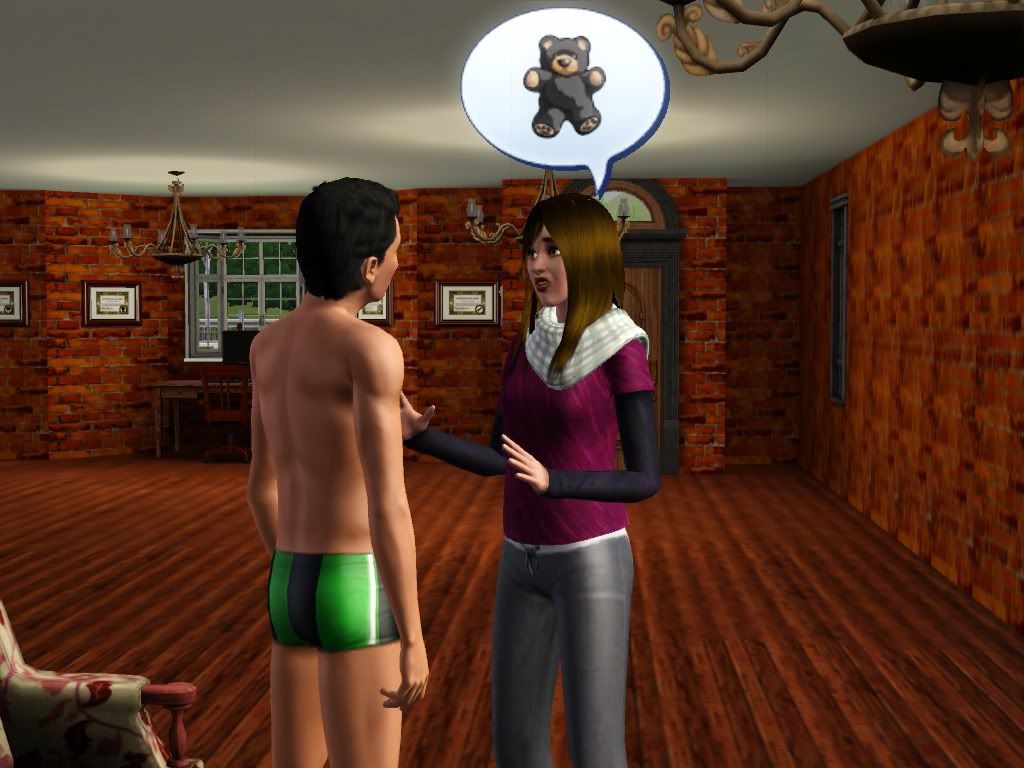 Back at the house, Claire had something to announce.
Claire: "Sweetheart, I don't know if you've noticed by my sudden fondness for yoga pants, but I'm pregnant again!"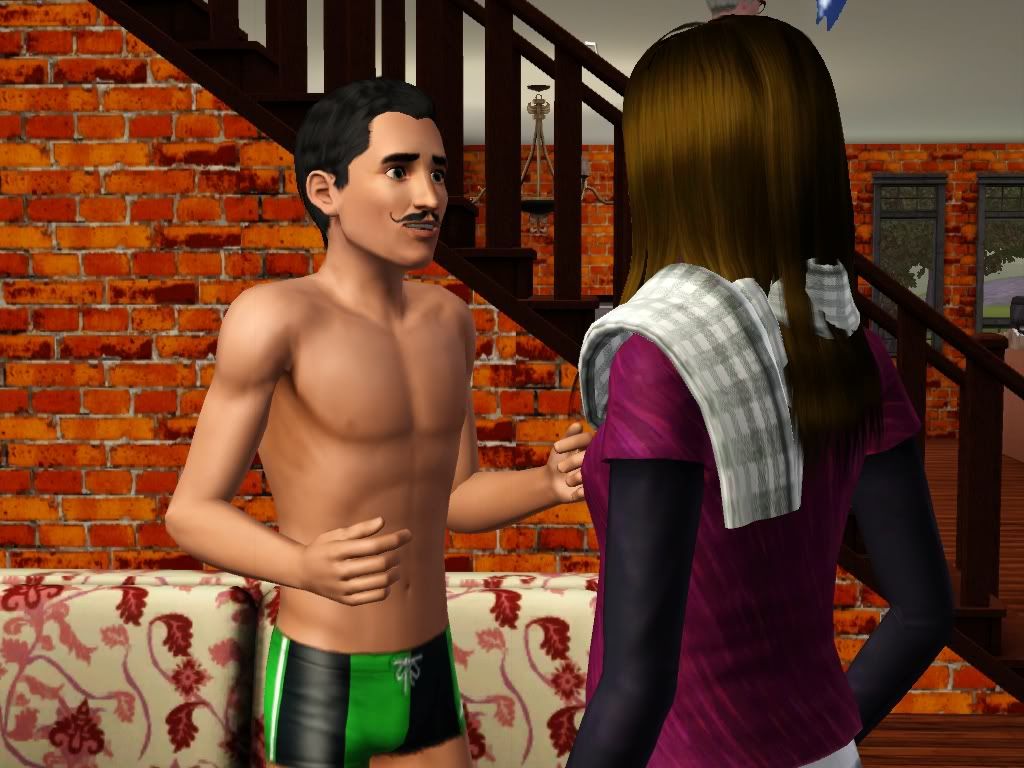 Joaquin: "HHHHHHHHHHH"
I have no idea what that face is, but he gave her a thumbs up, so I guess he's at least mildly excited. They both have wishes for a boy locked in this time.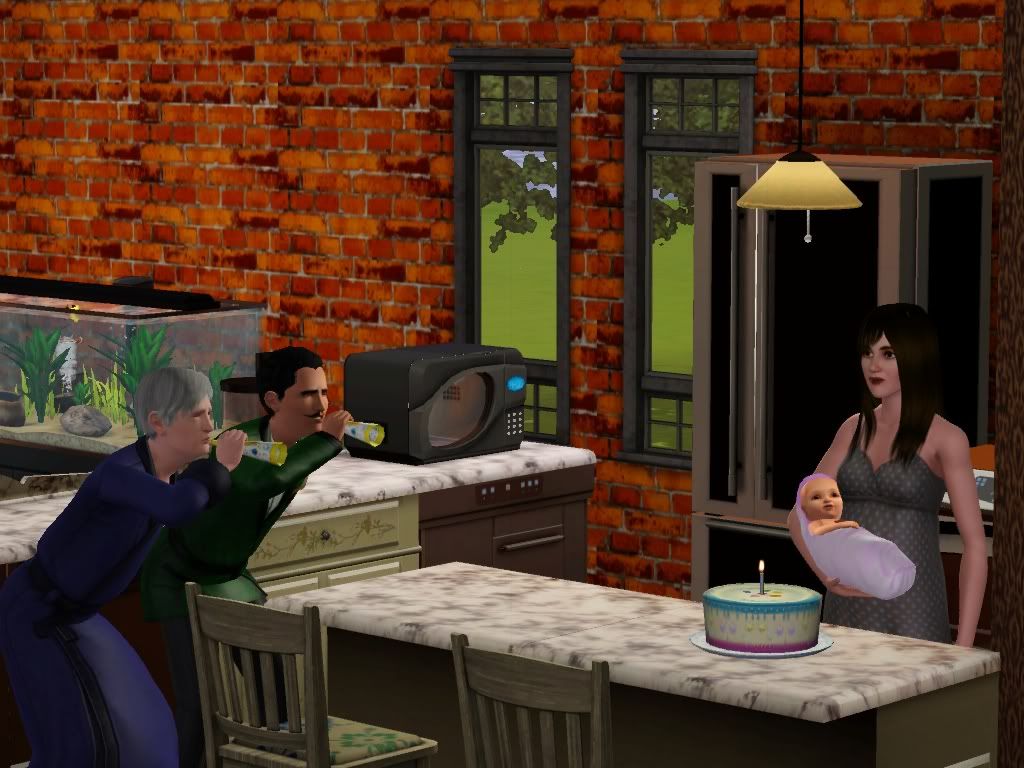 The next day, it was toddler birthday time for Velvet! It was Serious Business, apparently.
Dorian and Joaquin: TOOOT!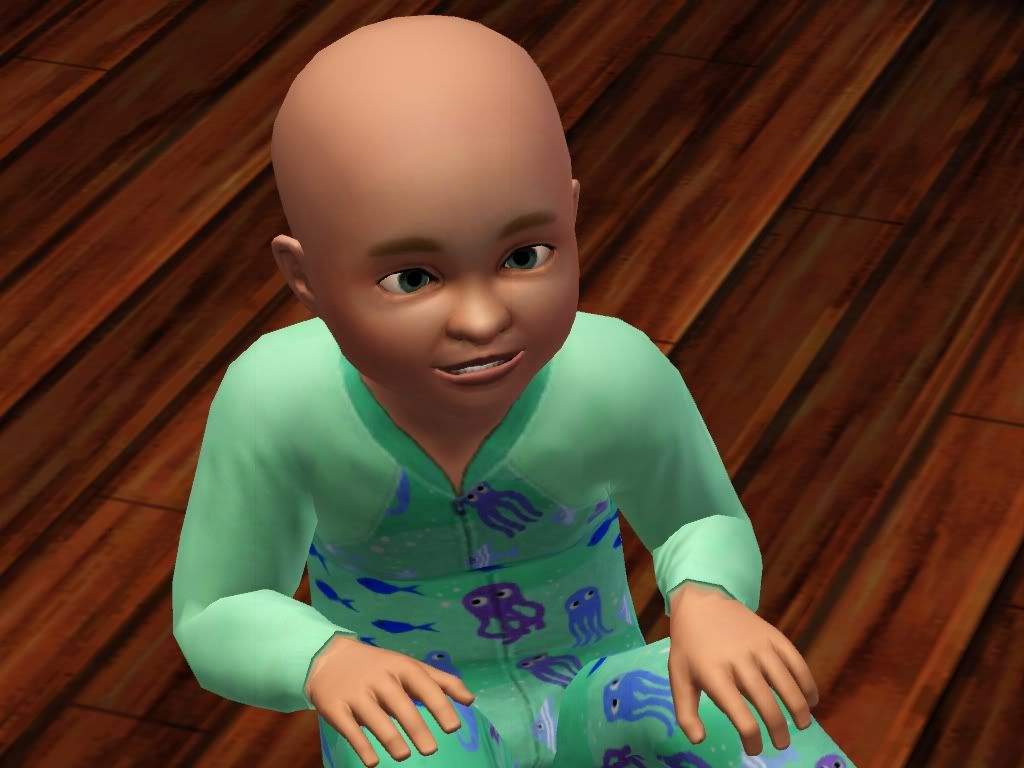 Velvet grew up into some pretty green eyes! I'm sorry but I never bothered to take her to a mirror and see what color her hair is. Those eyebrows look like a possible throwback to Lee, though!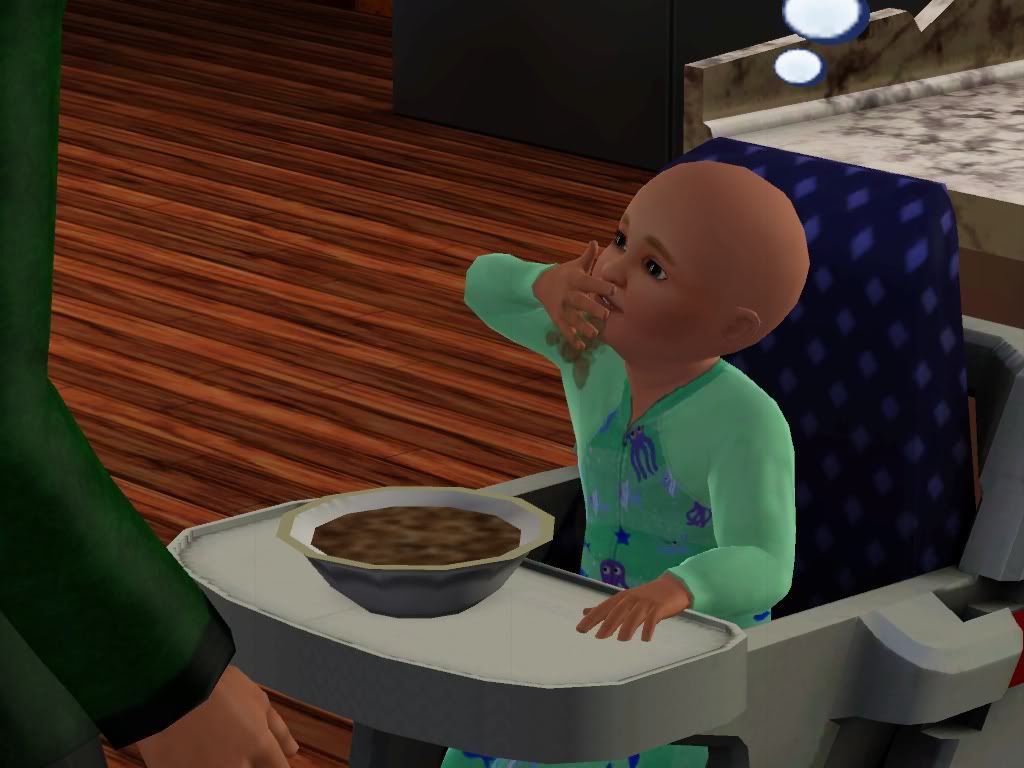 Velvet: Rowf narf snarf.
She is my favorite toddler since Wes. (Although we saw how he turned out).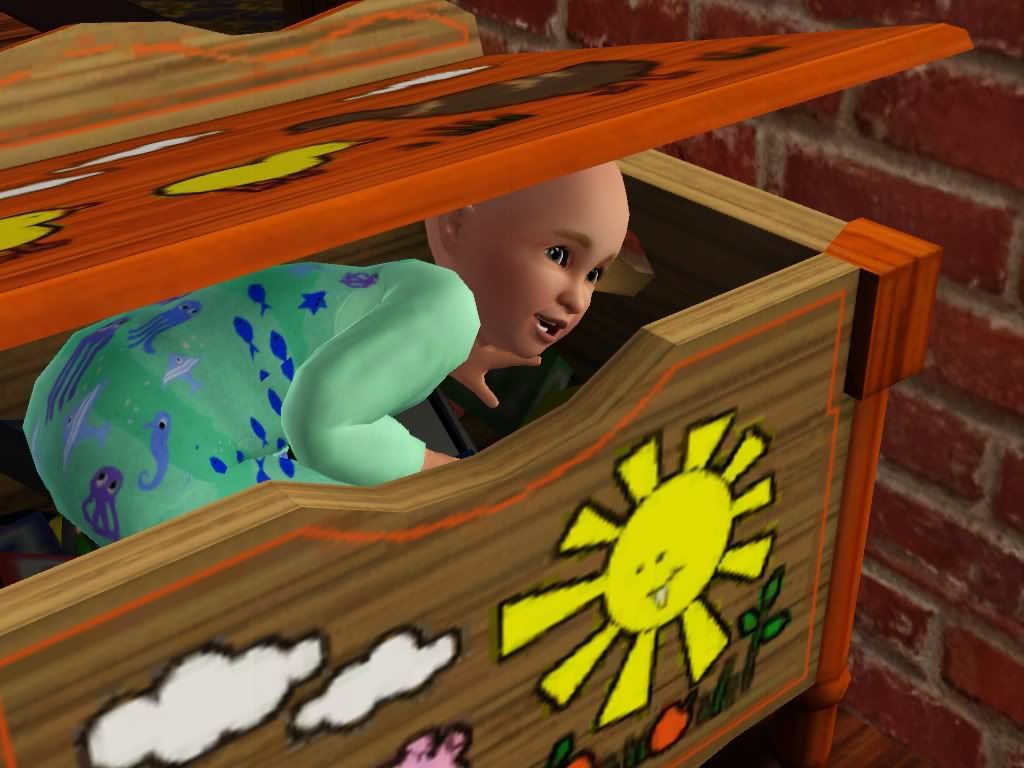 Velvet: "But loook at me! I'm not boring! And my onesie has octopuses! I'M HIDING IN A TOY BOX."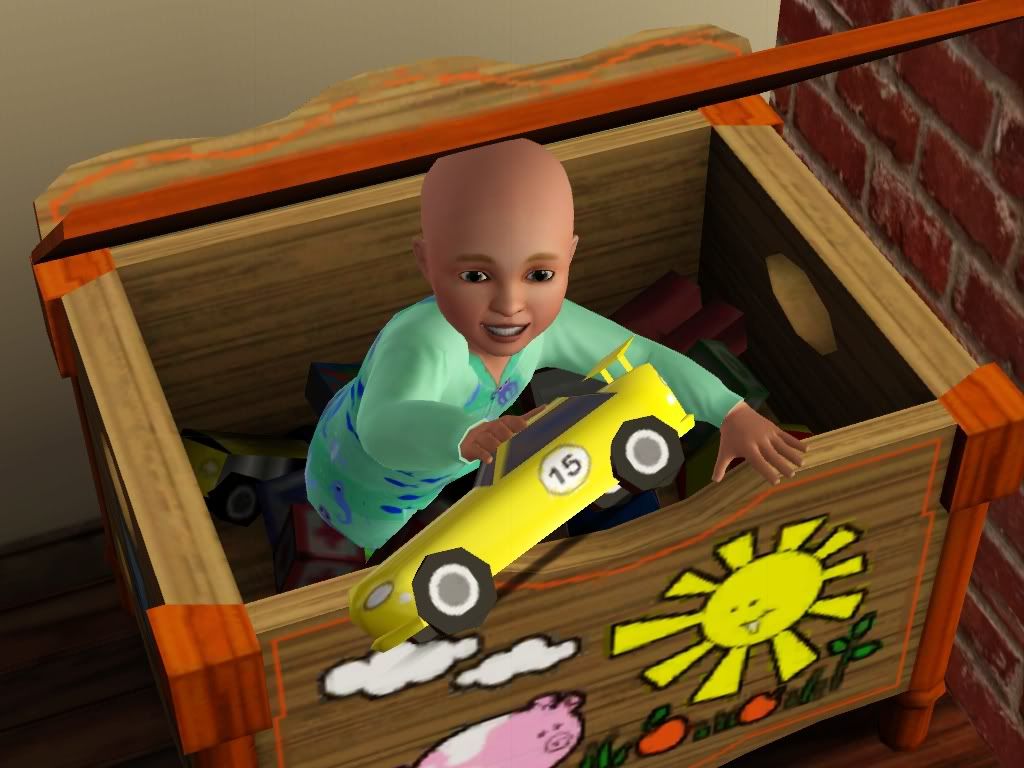 Velvet: "THIS IS ADORABLE."
Yes, it is. But you'd better step up your game, because you're about to have some competition.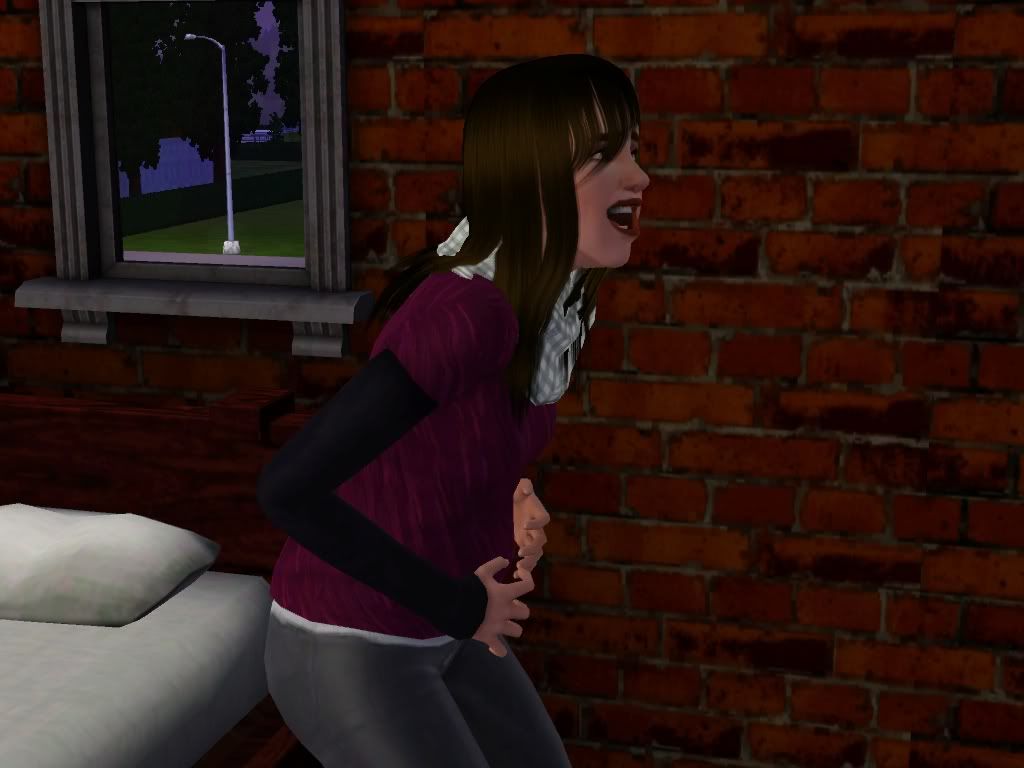 Claire: "It's happening agaaaaaaAAAAAAAAIN!"